Nashville Flash Mobs Create Moments!
Nashville Flash mobs have quickly become a popular option for surprising loved ones at special events or hundreds (even thousands!) of guests and spectators at meetings, parties or other public gatherings. Flash mobs are also quite successful for promoting new products during a launch or for attracting attention to booths and stages at trade shows. Due to the many viral videos on the internet, flash mobs remain a popular entertainment option for groups both large and small.Want to plan an AWESOME marriage proposal? Need to spice up your first official dance as a wedded couple? Want to add fun and excitement to your boring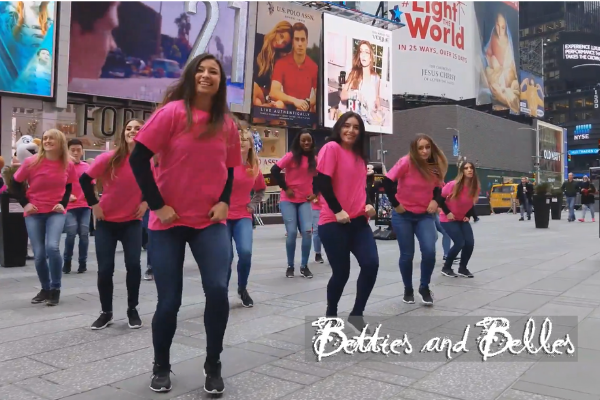 convention or meeting? What about launching a new product or making a corporate impact? Hire a flash mob. It will get the job done!
Nashville, TN provides the perfect backdrop and atmosphere for flash mob entertainment! With its many picturesque locations (Shelby Street Pedestrian Bridge, Cumberland River, Parthenon, Centennial Park, Vanderbilt University, Union Station…the list goes on!) and plenty of events, concerts, festivals, awards shows, conventions, conferences and sporting events to choose from, the options for your Nashville flash mob are endless. Known as the Music City with its legendary concert halls, venues, performances and as the center of the country music scene, what better way to make a splash in the capitol of Tennessee with a surprise Nashville flash mob performance that will leave your audience thrilled and ready to get on their feet!
Nashville Flash Mobs Are Fun!
Imagine your assembled crowd waiting for a meeting to start, a toast to end or the dance floor to open up. All of a sudden, an energetic, fun song starts up and one- by-one dancers appear out of nowhere and begin performing a coordinated dance routine for a thrilling surprise your guests aren't sure to forget! Dancers can perform any style of dance to fit the theme of your event (1920s, Latin, Bollywood, hip hop and jazz just to name a few) and can also be dressed to blend in with your wait staff, or just as innocent bystanders before breaking out into dance! We can coordinate props, signage and party favors into the routine to promote your business and add a little extra fun for your guests.
Nashville Flash Mob Wedding Proposal
If you want to create a moment your significant other will never forget and rave about for years to come, hire Betties and Belles to coordinate a super awesome flash mob marriage proposal! We have choreographed TONS of these and have many happy, satisfied couples with a great story to tell. Betties and Belles will customize your proposal just as you want it. We edit together the songs that are special to you (or we can help you choose the music), and incorporate any ideas you envision to make your proposal just right. You can even choose to join in the flash mob, or have family members and friends jump in. We'll send you training videos with short, simple choreography to give you plenty of time learn your steps and add another layer of surprise for your partner! We've also incorporated fun props like signs saying "Will you marry me?", confetti, banners and flowers to add an extra surprise for your sweetheart. 
Wedding Flash Mobs in Nashville
If you've already said "I do" and are looking for a special way to surprise your partner and/or guests with a performance at your wedding, Betties and Belles can help there too! Flash mobs or specialty themed performances are exactly what your crowd needs to get pumped up before heading out onto the dance floor!  We can also put together an awesome routine for the couple's first dance or the ever popular groomsmen or bridesmaids' routines to take your wedding reception to the next level. Betties and Belles has even put together surprise routines for brides-to-be at bridal showers! Our professional dance choreographer has tons of experience coordinating and choreographing performances for your marriage proposal or wedding that you'll never forget!
Contact us for Nashville Flash Mobs Options

If you are interested in learning more about flash mobs for your event in Nashville, we would love to chat with you! Please contact Betties and Belles for more information and rates via email at info@bettiesandbelles.com or by phone at 270-454-9463. We hope we can work together to make your surprise one they will never forget!